Choosing Media for a Photo—Metal, Canvas, or Framed Print
Nov 20, 2017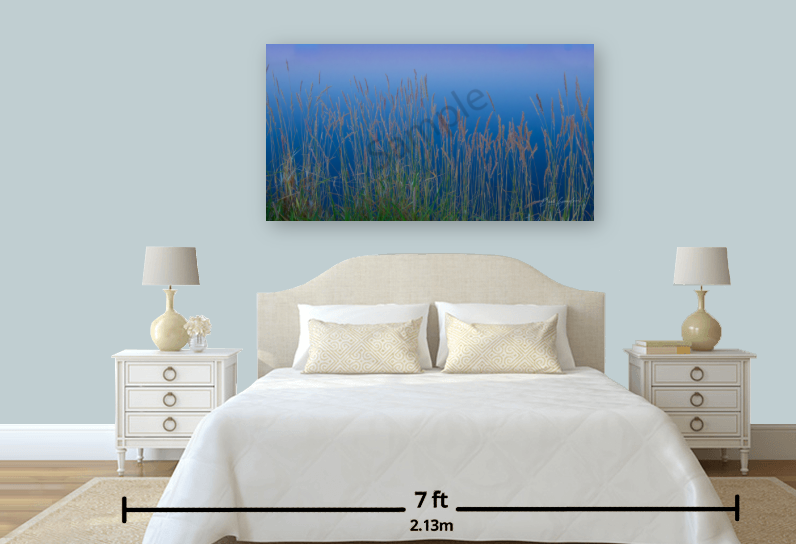 Metal, canvas, framed print? When buying art online we can be faced with too many choices. While some photo images look best in one medium—soft photos on canvas, bright images on metal, you will also want to consider your own decor and taste.
When I first started printing and selling my photographs, I had no idea what was the best way to print or frame them. With experience, I started to see some patterns. Because my website allows you to choose on what media to print a photo, I wanted to give you a heads up if you are having difficulty deciding. Many photos will look great in any media and you can choose what best suits your decor. If I feel a photo would look best in metal, canvas or print, I will note it at the end of the description next to the photo. These suggestions are based on how I see it in my mind's eye and how it turned out from previous orders.
Your decor and style may dictate whether you get metal, canvas or a framed Print. If you aren't sure, here's some guidelines.
Metal Prints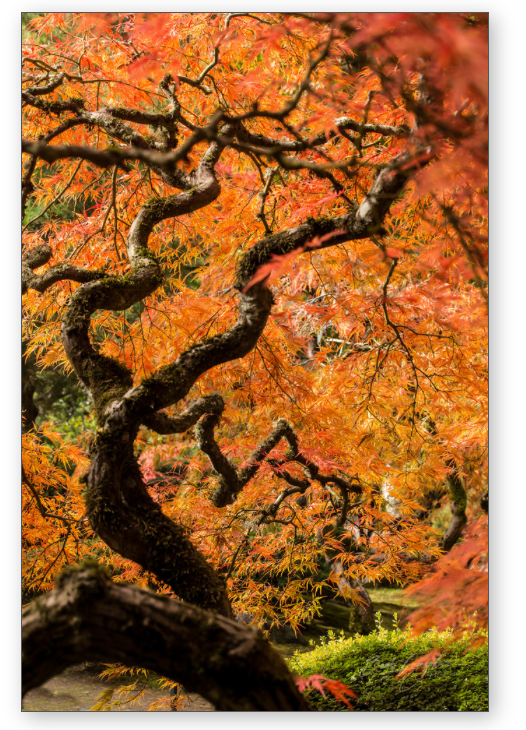 Japanese Maple in metal
Choose by decor: Metal prints have a glossy clean look that compliment modern, minimalist rooms as well as many offices, especially health care facilities. With subject matter that works well with metal, it can go into any room style.
Consider where you will place the photo as metal prints will reflect direct light from windows and lamps.
Choose by image: Bright colored close ups, crisp portrait wildlife photos, graphics, and landscapes are enhanced by glossy metal.
Canvas and Giclee Prints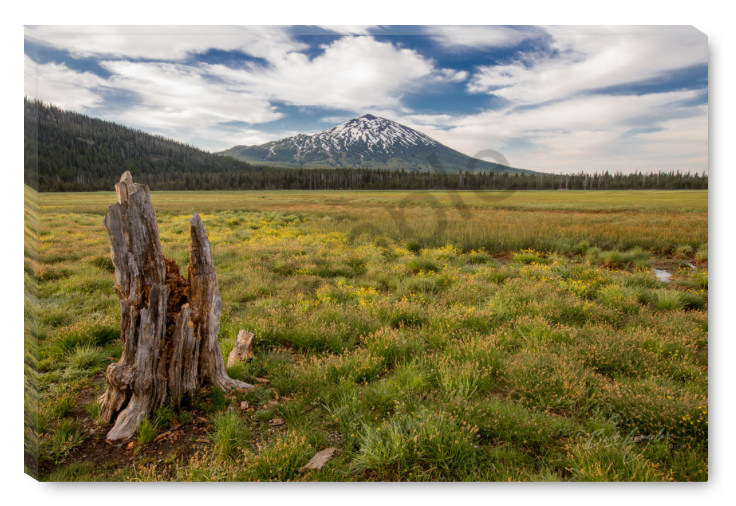 Mt. Bachelor Meadow on Canvas
Choose by image: Canvas and fine art giclee prints give an artistic painterly type feel. A giclee print is one where the ink is sprayed on a smooth or textured surface. Canvas is reminiscent of paintings. These textured surfaces emphasize softer photos—grassy landscapes, clouds, soft trees, mountains, and such.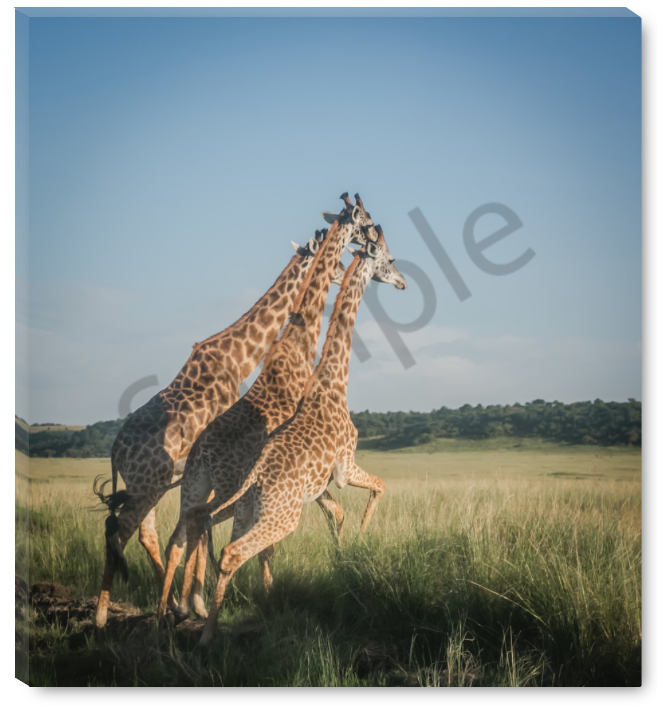 Three Giraffes on Canvas
Choose by decor: Canvas prints are well suited for all styles from cottages, and cape-cod, to artistic and eclectic decor.
Glossy laminates can be added to canvas prints and work well with photos where you want a sheen. If you want the more subdued painterly look, choose a matte laminate finish. Laminating a canvas helps prolong the life of the photo and allows you to wipe it clean with a soft cloth.
Wood Prints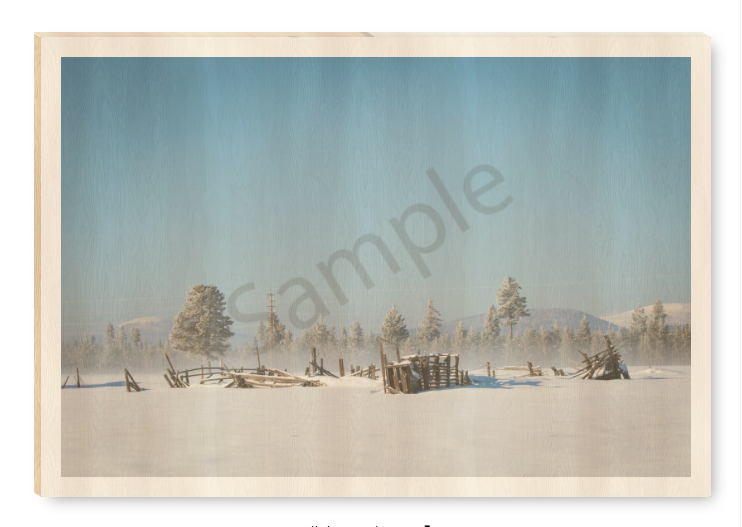 Dilapidated Barn in Winter on Wood
Choose by decor: Wood images are very stylized. They create an old-fashioned look that works well in a lodge, or farm house environment. Colors are very subdued and sepia toned. Be sure to pay attention to the print preview when you click to choose a wood print. There are a few images that are well suited to wood prints and I've noted it in the image description.
Choose by image: Country scenes, western and some landscapes are suited for wood prints. If you are attracted to an images vivid colors, don't choose a Wood Print.
Fuji Pearl and Fuji Matte Velvet
These paper choices are more than the glossy or matte surface choices available at your fast photo printer. These are excellent professional print archival papers that will last many years and are suitable for framing. The pearl finish has a sheen that is well suited for photos that are crisp and bright. Fuji Matte Velvet has a smooth surface that appears to be original artwork.
For many of my photos my preference is the Matte Velvet finish as it appears more as fine art, but Pearl is great for bringing out the details.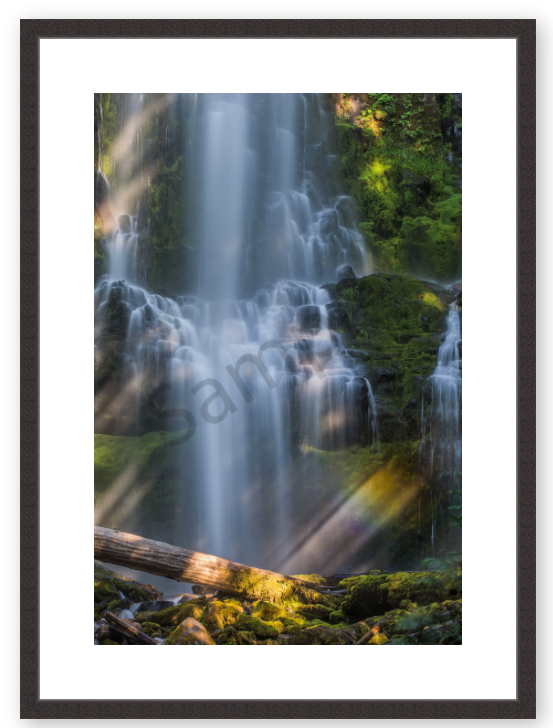 Proxy Falls Rainbow- Fuji Matte Velvet Framed
Framing and Matting
The type of frame you choose can make any photo fit your style. A thin frame lets the photo do "all the talking." Frames with matting soften the look and add polish. For photos over 20 inches, choose a 2-inch mat. Galleries and museums may use a 3-inch mat, if you like that look. A 1-inch mat may be enough for 8 x 10 or 11 x 14 photos depending on the frame. When you choose a frame and mat width, you can use the preview to decide as you click around your choices.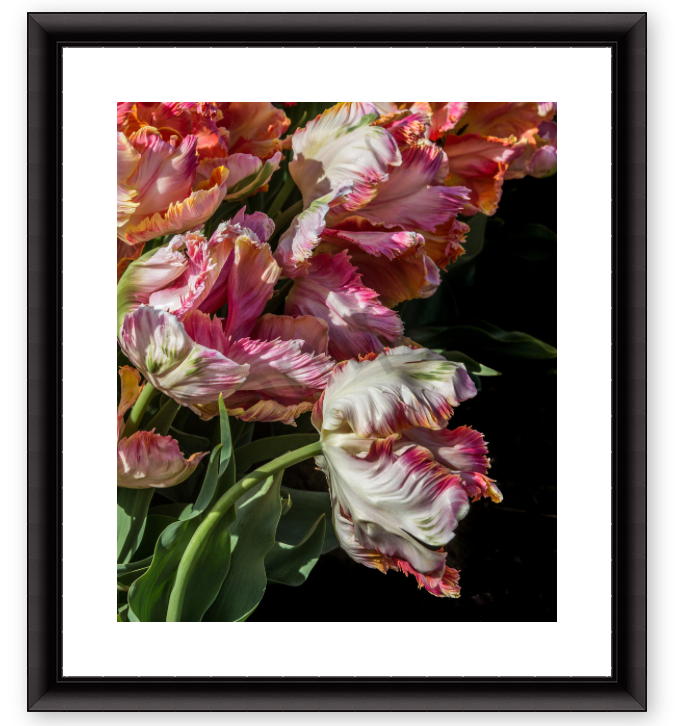 Ruffled Tulips on Fuji Pearl Scoop Frame 3 inch mat
Wall Preview
MAKE SURE YOU SEE HOW IT WILL LOOK! Don't forget to click on "wall preview" to see how it will look in your room. (see image above). You can change the size of the photo and even the color of your walls to take the guesswork out of your choices. Note—the wall preview feature has not been working on my limited edition page. I'm on it to make it work.